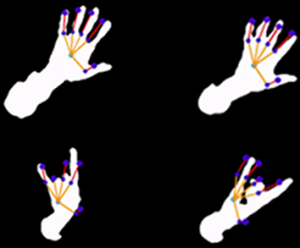 Hi
Just wanted to share a thing I made - a simple 2D hand pose estimator, using a skeleton model fitting. Basically there has been a crap load of work on hand pose estimation, but I was inspired by this ancient work. The problem is setting out to find a good solution, and everything is very hard to understand and implement. In such cases I like to be inspired by a method, and just set out with my own implementation. This way, I understand whats going on, simplify it, and share it with you!
Anyway, let's get down to business.
Edit (6/5/2014): Also see some of my other work on hand gesture recognition using smart contours and particle filters
Continue reading "Hand gesture recognition via model fitting in energy minimization w/OpenCV"