Archive for the 'Mobile phones' Category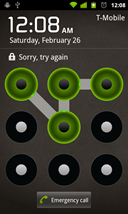 Let me start putting everything on the table – this post will describe how I eventually managed to unlock an unrooted, non-Google account linked Samsung Galaxy Mini Plus (GT-5570I) device without ADB support. There are a lot of guides on how to bypass this pattern lock on Android (and I will provide some links), but the purpose of this post is to show how looking for creative ways to do this can come handy
So a friend gave me a locked device. This device had no Google account linked to it (which prevented me from bypassing the lock with that account), there was no root or ADB access via recovery, and the USB debugging option was disabled.
I found this guide here, which states some commands you can type in ADB shell and should deactivate the pattern lock. So – How do I get ADB access on that phone? Read the rest of this entry »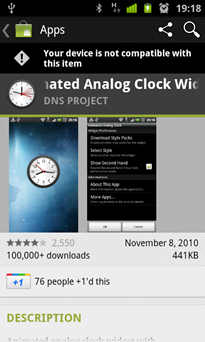 WOW That was annoying! From the moment I started using a custom ROM on my Samsung Galaxy S2 (Cognition S2, to be exact), I started having issues with some apps.

Sometimes they won't appear in search results, other times it will just say it's not compatible. It drove me nuts!

Naturally I started with the forums – All the solutions there were about LCD DPI change. Funny, I never thought of that, but it did make sense. The only problem was that I never touched my DPI settings (Heck, I didn't know I could).

(On a side note – tampering with the density is pretty cool… if you want to try it, you can download apps from the Market like LCD Density)

Back to my problem…
Read the rest of this entry »
So, been working hard on my projects, and discovered some interesting things in Android possibilities for frame animation. Last time I was using an HTML approach, because of memory consumption issues with using ImageViews. However now my approach is using View.onDraw(Canvas) to draw BMPs straight off files, in an asynchronous way, and it seems to work pretty good.
Let me tell you how I did it
Read the rest of this entry »
Number Saver has been around for a while, but when I got around to it, it was always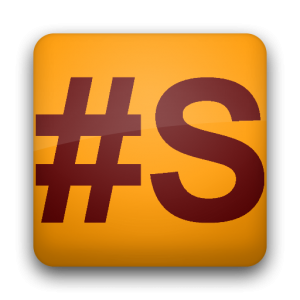 about the features. I felt the time is right to polish (even a bit) my Android UI skills and try and make it. Read the rest of this entry »
Hi
Just a quick share of lessons learned about Android's Frame-by-Frame animations. Some of the functionality is poorly documented, as many people point out, so the web is the only place for answers. Having looked for some answers to these questions and couldn't find any - here's what I found out myself.
Update [2/3/11]: A new post on this topic gives a more broad view of my experience.
Read the rest of this entry »
On one of my Android apps, I added a trivial option to select a contact from the phone's contact list. This was working fine until SDK version 5, which changed the way the contacts are represented in the phone's SQLite database. It is using the "newer" class called ContactsContract instead of the deprecated People class

I have spent quite time in order to figure out which was the best way that will fit my needs. If you are in the same position, feel free to use the code below

My example below is will display a two row list of all the contacts, with alphabetical indexing. It is a mixture of code snippets I have found on the net, while may not be optimized; it will definitely give you the hang of things.
Android + Yourmuze.fm + Dolphin Browser HD + XiiaLive = WIN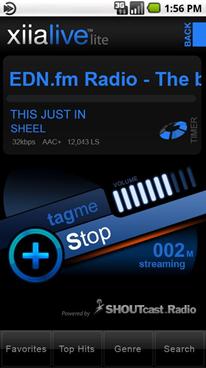 It's been a while since I've posted anything in the blog… Sorry for that… very busy times. I had a lot of ideas of what my "comeback post" should be about, but I knew I had to share one of my relatively recent discoveries that made my smartphone online-radio listening experience a whole lot better
If you don't know yourmuze.fm, this might be the time to get to know it. It's a free service that has a LOT of worldwide radio stations available as an online stream for usage with most of the smartphones.
In order to start using it you need to register for free via your desktop computer, and add the stations you like. Later on, you can surf to the mobile version of the service by mobile web and listen to the stations you selected.
So far so good… I like it. But how about multitasking?


Hi!
Long time no post... MIT is kicking my ass with work. But it was amazing to come back to so many comments with people anxious to get OpenCV going mobile!
Anyway, just wanted to share my work on object detection using OpenCV2.1 on the Android.
Read the rest of this entry »
Hi All
It looks like it's finally here - a way to grab the raw data of the camera frames on the iPhone OS 3.x.
Update: Apple officially supports this in iOS 4.x using AVFoundation, here's sample code from Apple developer.
A gifted hacker named John DeWeese was nice enough to comment on a post from May 09' with his method of hacking the APIs to get the frames. Though cumbersome, it looks like it should work, but I haven't tried it yet. I promise to try it soon and share my results.
Way to go John!
Some code would be awesome...
Roy.
Hi
A hefty crop this week…
Stuff I picked up on the web this past week:
http://www.techcrunch.com/2009/11/12/trouble-at-twitter-u-s-visitors-down-8-percent-in-october/
Finally - the Twitter bubble is starting to burst. I was asking myself how long this foolishness will last. I mean, really - only 140 chars? come on...
http://gizmodo.com/5404086/10-human-functions-weve-already-handed-over-to-the-machines/gallery
Robots - you like them and fear them at the same time...
http://gizmodo.com/5403457/10-iphone-apps-to-augment-your-sad-reality/gallery
AR recap on the iPhone.
My 2 cents: this is getting old... and everyone are doing the same thing. Innovation is needed.
http://gizmodo.com/5403646/what-is-this
10 bucks if you guess what this is
http://www.techcrunch.com/2009/11/16/foursquare-api/
We GOTTA do something with this. This is a hot (and interesting) buzz out there: social-location.
http://lifehacker.com/5405684/apostropheme-explains-when-you-really-need-apostrophes
And let that be a lesson for you.
http://www.techcrunch.com/2009/11/16/youtube-direct-gives-news-orgs-a-way-to-accept-user-submitted-videos/
Another cool new thing to integrate with
http://www.mobilecrunch.com/2009/11/16/samsung-announces-new-android-powered-galaxy-spica-i5700/
More android love from Samsung!
http://gizmodo.com/5407454/microsofts-bag+based-computer-interface-for-poking
Microsoft – not so soft… finger-press based interface
http://gizmodo.com/5407319/nokias-n+series-will-ditch-symbian-for-maemo-by-2012
Let's do something with Maemo!
http://lifehacker.com/5407010/refine-your-image-search-with-google-image-swirl
Try it – it's cute.
http://gizmodo.com/5407245/the-true-google-phone-may-be-coming-soon
Google on the move into mobile phones, that was anticipated. But looks like the schedule is being pulled back
See ya'll next week!
Roy.