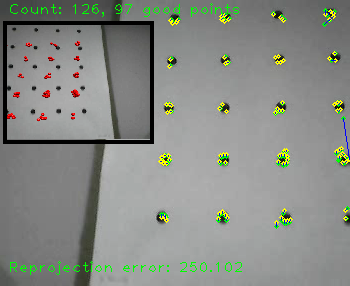 Hi
Been working hard at a project for school the past month, implementing one of the more interesting works I've seen in the AR arena: Parallel Tracking and Mapping (PTAM) [PDF]. This is a work by George Klein [homepage] and David Murray from Oxford university, presented in ISMAR 2007.
When I first saw it on youtube [link] I immediately saw the immense potential – mobile markerless augmented reality. I thought I should get to know this work a bit more closely, so I chose to implement it as a part of advanced computer vision course, given by Dr. Lior Wolf [link] at TAU.
The work is very extensive, and clearly is a result of deep research in the field, so I set to achieve a few selected features: Stereo initialization, Tracking, and small map upkeeping. I chose not to implement relocalization and full map handling.
This post is kind of a tutorial for 3D reconstruction with OpenCV 2.0. I will show practical use of the functions in cvtriangulation.cpp, which are not documented and in fact incomplete. Furthermore I'll show how to easily combine OpenCV and OpenGL for 3D augmentations, a thing which is only briefly described in the docs or online.
Here are the step I took and things I learned in the process of implementing the work.
Update: A nice patch by yazor fixes the video mismatching – thanks! and also a nice application by Zentium called "iKat" is doing some kick-ass mobile markerless augmented reality.