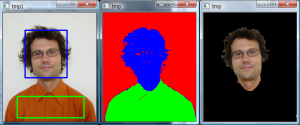 This is a tutorial on using Graph-Cuts and Gaussian-Mixture-Models for image segmentation with OpenCV in C++ environment.
Update 10/30/2017: See a new implementation of this method using OpenCV-Python, PyMaxflow, SLIC superpixels, Delaunay and other tricks.
Been wokring on my masters thesis for a while now, and the path of my work came across image segmentation. Naturally I became interested in Max-Flow Graph Cuts algorithms, being the "hottest fish in the fish-market" right now if the fish market was the image segmentation scene.
So I went looking for a CPP implementation of graphcut, only to find out that OpenCV already implemented it in v2.0 as part of their GrabCut impl. But I wanted to explore a bit, so I found this implementation by Olga Vexler, which is build upon Kolmogorov's framework for max-flow algorithms. I was also inspired by Shai Bagon's usage example of this implementation for Matlab.
Let's jump in...
Continue reading "Bust out your own graphcut based image segmentation with OpenCV [w/ code]"