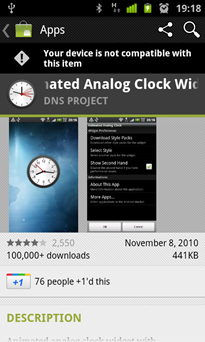 WOW That was annoying! From the moment I started using a custom ROM on my Samsung Galaxy S2 (Cognition S2, to be exact), I started having issues with some apps.

Sometimes they won't appear in search results, other times it will just say it's not compatible. It drove me nuts!

Naturally I started with the forums – All the solutions there were about LCD DPI change. Funny, I never thought of that, but it did make sense. The only problem was that I never touched my DPI settings (Heck, I didn't know I could).

(On a side note – tampering with the density is pretty cool… if you want to try it, you can download apps from the Market like LCD Density)

Back to my problem…
Continue reading "Android Market's apps compatibility problem [w/ solution]"