SO I've been trying to create a bootable live USB of some linux distro on the Mac and failed consistently. That is - until I found a magical solution!

I tried
dd-ing the .iso file onto the USB stick after unmounting, (and optionally partitioning to "Free Space" with Disk Utility)
Formatting to FAT32, then copying from .iso
Using UNetBootin for Mac OS X, that basically copies stuff and then adds its own bootloader "GUI"
Nothing worked. I kept getting "Missing Operating System" or just failures on boot...
Until I found a post by this guy Christofer, who published a very important piece of information that got me through the problem:
I needed to write the MBR to the USB after formatting to FAT32 because UNetBootin (or anything else) did not do that...
http://perpetual-notion.blogspot.com/2011/08/unetbootin-on-mac-os-x.html
Basically the procedure is simple:
1. Format to FAT32 with Disk Utility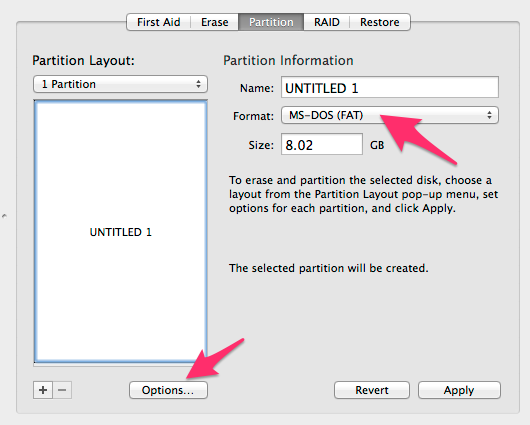 Make sure you select the Master Boot Record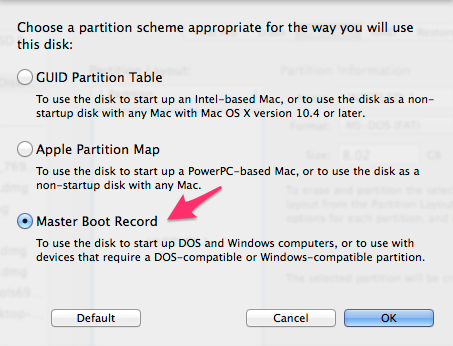 2. Use fdisk to write the MBR to partition #1
Make sure you first unmount the partition using DiskUtil (or command line: diskutil umount /dev/disk1s1)

fdisk -e /dev/rdisk1
f 1
write
exit

(it may complain a bit, but should work, just keep going)
3. get syslinux and upload the MBR binary
I had to use "/dev/disk1" instead of "/dev/rdisk1" to make it work.

dd conv=notrunc bs=440 count=1 if=mbr.bin of=/dev/disk1

You should see

1+0 records in
1+0 records out
440 bytes transferred in 0.000622 secs (707628 bytes/sec)

I've found the mbr.bin in the latest syslinux download under
syslinux-6.02/bios/mbr/mbr.bin
.
4. Use UNetBootin as usual
That worked for me...